Back in November I released a post about the Star Trek drink cozy I made. I was very excited about the pattern and since then a lot of people have expressed excitement over the cozy. So over the past few month`s I have spent some time developing the pattern and finalizing it. I`m happy to announce that not only is the pattern done, I've made a cozy for every colour of the away team.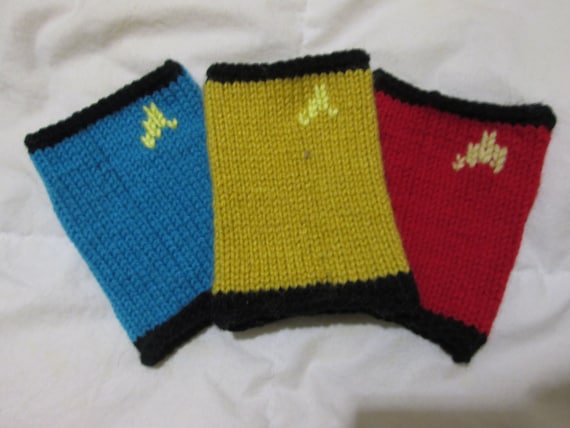 Now, instead of just redshirt, the cozy is available in science officer blue and command gold! (It took so long to find just the right colour gold!) The listings are now available on my Etsy store for
individual orders
, or collect them all with a custom
6-pack away team
. They make great drink markers for parties.
It`s an easy pattern and fun pattern. The cozy is knit in the round with stockinette stitch. The star fleet insignia is then added on afterwards using duplicate stitch. T
he pattern is now available for purchase here on Ravelry.