The holiday season is over and so has the rush of custom orders. It was a lot of fun making other people's ideas come to life, but I'm very excited to be working on my own designs again. Every now and then you just have to make something beautiful for yourself.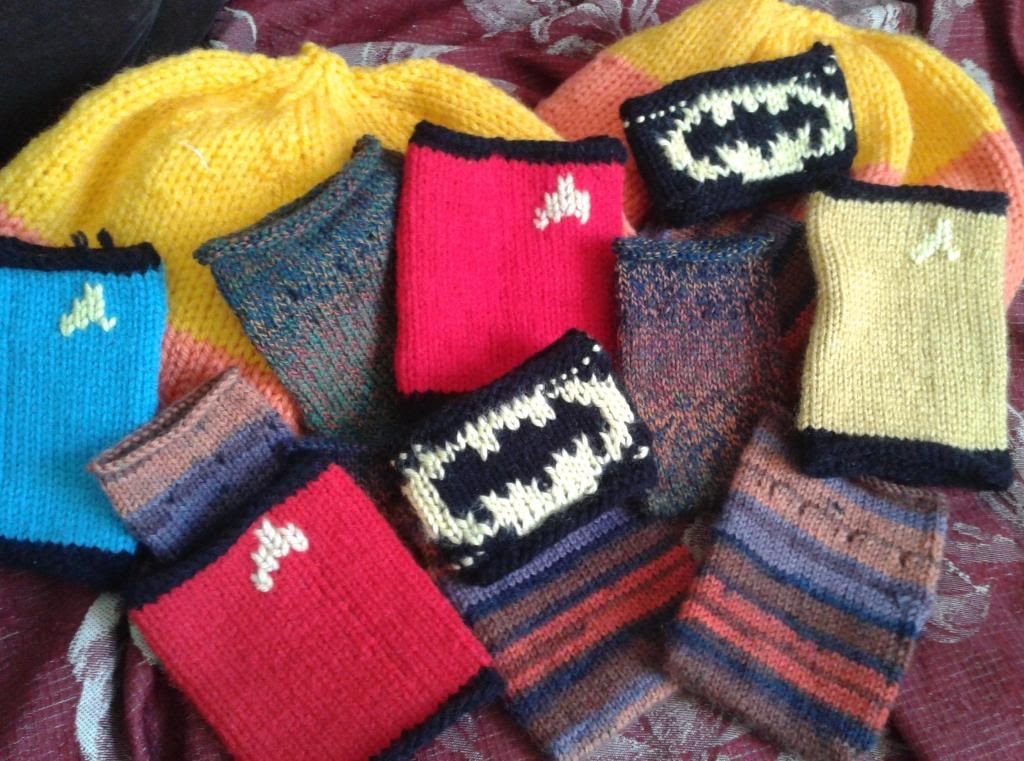 There are quite a few projects on my needles right now. In Halifax there is a Spring Geekquinox craft market taking place at the end of March. I will be splitting a table with my friend who makes a comic called Shenanigans Tales. You can expect to see all my usual nerdy knits, Pokeball Hackeysacks, Star Trek Drink Cozys, Jayne Cobb hats, Batman wristbands etc., as well as some new items that I've been working on.
There are a few odd balls of sock yarn in my stash. I've tried to find pairs for them but to no avail. There isn't enough yarn for a full pair of socks, so it's been hard to find the right project for the colours. I stumbledupon a pattern for sock yarn dice bag and fell in love. The stripey yarns look so beautiful as dice bags.
My Doctor Who scarf is also coming along. It's not my go-to project at the moment but it's perfect when I'm in the mood for endless knit rows. After working for days to perfect a new pattern it's great to sit back and not have to worry about my stitches. The yarn was given to me as a Christmas gift and it's steadily been growing ever since. There are so many patterns for the scarf, it was really hard to find the right one to match the yarn I had. The best site I found was on http://wittylittleknitter.com. It has a complete listing of the various scarves used during the show and is a great resource for the patterns. I decided to use the season 12 pattern as it best suits the colours I have.